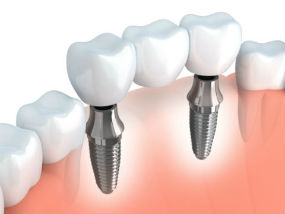 Smiling is one of the simplest pleasures around. It's free, and it has a positive effect on you and others. But when you're missing teeth or even a single tooth, it's hard to feel good about opening your mouth, much less smiling. And worse, missing teeth can make eating and talking more difficult than they have to be. Implant dentistry can help solve all that.
Implant dentistry involves the replacement of missing teeth with dental implants. Dental implants are comprised metal posts, which are surgically inserted into the jaw and act as anchors for artificial teeth. They look and feel just like natural teeth and can last a lifetime! While implant dentists have been using this innovative solution for years, recent advances in implant dentistry are making it easier than ever for patients to restore their smiles faster, with less post-op recovery time. Implant dentistry is one of the most successful dental procedures around, with about a 100 percent success rate! 
Implant dentistry is also very flexible and can be used in conjunction with dentures and dental bridges. A single dental implant can be used to support the dental crown in a dental bridge. And if you need to replace all your teeth, implant-supported dentures are a great substitute for removable dentures, creating a more secure, more comfortable fit.
Advances in implant dentistry have also helped make dentures more effective. Implant dentists can now correct problems with a floating lower denture by using mini dental implants for stabilization. Unlike traditional dental implants, mini dental implants are just 1.6mm wide - about the size of a toothpick! Both patients and implant dentists love mini dental implants for several reasons. First, they're minimally invasive, sometimes requiring no incision at all for insertion. In most cases, there's little dental anesthesia required. Second, your implant dentist just has to use a single injection of anesthesia where the implant will be placed. Best of all, you can use your mini dental implants with little to no discomfort just as soon as you leave your implant dental office!